---
Musical Interludes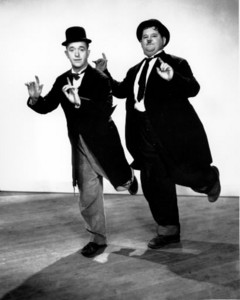 "Cute music!" -- the only words that studio head Hal Roach ever spoke to Marvin Hartley (shown below), regarding Hatley's score for Way Out West

Way Out West's first noteworthy musical footnote is its score by Roach Studios veteran Marvin Hatley. In later years, Hatley spoke of the "terrifying pressure" he felt every time he had to score a new movie, due to the studio's lack of funding and time. Happily, that pressure is nowhere to be found in the final product, which complements Stan and Ollie's Western antics perfectly. In fact, the score was even nominated for an Academy Award, no small feat for a Hal Roach feature, most of which were considered time-killing filler by the movie industry.

Another musical element worth noting is that of Western star Chill Wills (above), here making one of his first movie appearances alongside his singing group The Avalon Boys. (Wills does the yodeling during "At the Ball, That's All.") Besides his appearance here, perhaps his most notorious movie moment was when he was nominated for an Oscar for his supporting role opposite John Wayne in The Alamo (1960), only to squander the moment with a self-serving publicity campaign as to why he should be given the award. (Click here to read about it.)
Last but not least are the movie's charming musical numbers, two of which has not really been given their due until now.
"Won't You Be My Lovey Dovey?"
This song was published in 1905, with lyrics by E. P. Moran and music by Seymour Firth. Sharon Lynne sings it in the movie's first scene, as part of Lola Marcel's stage repertoire. (Click here to listen to a sound clip Lynne singing it, minus the extraneous background noise.)
"Where Did You Get That Hat?"
This is heard as an instrumental in the scene where Stan is attempting to eat Ollie's hat. Marvin Hatley added the song to the score at Stan's suggestion.
The song was written by Joseph Sullivan in 1888. According to The Tin Pan Alley Song Encyclopedia, Sullivan found an old top hat while going through his late father's effects, and when he wore it in the street, a young boy accosted him with the six words that became the title.
Elsewhere in film, the song was sung by Gene Kelly in Take Me Out To The Ball Game (1949). It was also recorded by the English comedian Stanley Holloway (Eliza Doolittle's layabout father in My Fair Lady).
As for the other three songs, Charles Barr sums it up perfectly in his 1967 study of L&H: "Considering how good are Ollie's singing and both men's dancing, their restraint is remarkable, for they could easily have made a musical number into as much of a trademark as Stan's cry." Some L&H buffs would indeed argue that it is made a trademark here.
"At the Ball, That's All"
This song was written in 1913 by J. Leubrie Hill. Until this film, its most prominent performance was in Ziegfield Follies of 1913. In the film, of course, it is sung by Chill Wills and The Avalon Boys as Stan and Ollie famously dance to it.
Amazingly, this number and the following one do not show up in the film's final script. According to sound engineer Ralph Butler, Chill Wills came up with the idea of using this song for the movie, and Stan improvised the dance around it. Stan told Laurel & Hardy impersonator Chuck McCann that the dance number was worked out on the set in about a half-hour and was filmed in only two takes.
(Apparently, not everyone was charmed by this musical number. At the start of the song, take note of the sleepy-looking kid sitting on the saloon porch behind the Avalon Boys.)
"The Trail of the Lonesome Pine"
Like "At the Ball," this song was published in 1913, with lyrics by Ballard MacDonald and music by Harry Carroll. (1913 appears to have been a bumper year for Laurel & Hardy future "cover" songs. Also published this year was Henry Fink and Al Piantadosi's "The Curse of an Aching Heart," featured in the Laurel & Hardy short Blotto [1930].)
In "Trail," the singer expresses his love for June who lives in the Blue Ridge Mountains of Virginia. It was performed in numerous plays and movies before being immortalized by Laurel & Hardy. A half-century after L&H's performance, the song was again rendered on film, this time by Linda Hunt and Linda Bassett in Waiting for the Moon (1987).
L&H's film version of the song was not in the script. It came about when, between takes, one of the Avalon Boys was strumming his guitar and Babe vocalized alongside him. Everyone who heard it was sufficiently impressed to have the song included in the film.
The song is sung by Stan and Ollie, except for Stan's "comedic part" near the song's end, where he was dubbed by Chill Wills (for the deep bass part) and Rosina Lawrence (for the falsetto part).
In the United Kingdom in 1975, the L&H version was released as a 45-RPM record single (with a B-side of "Honolulu Baby" from Sons of the Desert; record number UP 36026 on the United Artists Records label) and reached No. 2 on the record-sales charts. It is the biggest non-No. 1 release by a posthumous artist, and the first after-death record success for a duo.
"I Want to Be in Dixie"
The movie's concluding song goes back one year further from the previous two songs. It was published on Jan. 18, 1912, with music by Ted Snyder and lyrics by legendary American composer Irving Berlin. According to one source, Berlin had gone to the Friars Club to meet up with Snyder and Tom Penfold, who were engrossed in a game of pool. Berlin killed time by "dubbin' around the piano," and fifteen minutes later, "Dixie" was "born."
(To "sing along" with all of these songs, click on the appropriate link below.)
Click below to go to:
---